Nourish Minds, Empower Futures
Like any other third-world country, Nigeria is battling many social problems. Prominent among the issues is a severe economic meltdown, ultimately leading to abject poverty, hunger and food insecurity among the populace. The unprecedented financial crises and fluctuations in food prices in recent years have deprived many Nigerians, particularly those living in impoverished regions, of the country's access to nutritious food.
However, the dominant economic activity among the community's people is agriculture, particularly farming, at the subsistent level. The farmers predominantly produce food crops, such as beans, yam, millet, maize, banana and cassava, among other food items. The farmers are, however, facing serious challenges that impact their productivity. Mention, but a few of such problems are poor land tenure systems, low levels of irrigation farming, climate change and land degradation. Other problems worthy of mention are low technology, high production cost and poor distribution of inputs, limited financing, high post-harvest losses and poor access to markets.
One could expect the community to retain acute socio-economic problems on this basis. And so it is! Survey shows that many families in such community live below the global poverty line and can barely afford a three-square meal of good nutritional value. This poverty, consequently, exposes many children in the community to the risks of both micro and macronutrient deficiencies. Without a doubt, poor feeding among school-age children can result in impaired cognitive and psychomotor development, which may undesirably upset academic performance through reduced learning capacity and poor school attendance.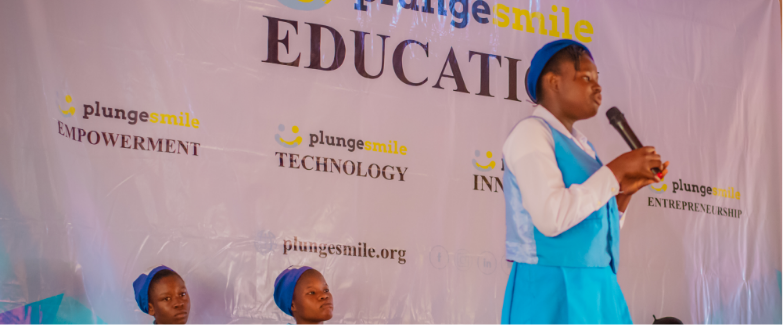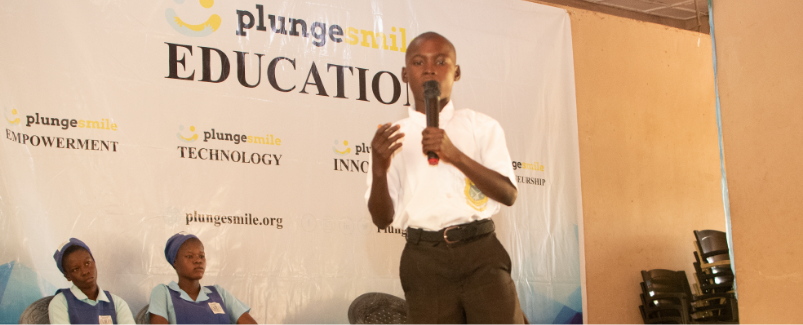 Sadly enough, the described undesirable state of affairs in the town has customarily pressured many parents and guardians into prioritizing work over education and obtaining academic certificates, which could better assist in securing higher-paying jobs for their children and bid farewell to poverty ultimately. In other words, formal education is not considered a reliable means to an end. Little wonders why the rates of drop-out-from-school incidence are unacceptably high in the town and its environs.
To tackle the constraints poor feeding and malnutrition impose on the education of children, many governments around the globe, Nigeria inclusive, have constantly recognized the significance of School Feeding Programmes (SFPs), in addressing short-term hunger, by ensuring at least one square nutritious meal for learners while in school, to support their access to qualitative education, improve their growth and development and increase school enrolment.  The high level of food insecurity, a significant incidence of malnutrition and unprecedented economic meltdown that characterize the rural, agro-based Esie Kwara state all combined to make the Plungesmile Foundation-sponsored SFP relevant and timely.
PlungeSmile Foundation has been actively altering the dynamics through the initiated School Feeding Programme (SFP) for the six public schools in the town, namely, Nomadic Primary School, Ogbodun/Esie; Saint Michael Primary School, Esie; Muslim Community Primary School, Esie; Community High School, Esie; Esie/Iludun Anglican Grammar School, Esie and Government Technical College, Esie/Iludun. Over 900 hundred (900+) children are being fed nutritious food once each of the five days that schools open.
WHAT DIFFERENCE HAVE WE MADE?
Well-designed SFPs have demonstrated high returns in different human life and living areas. Primary among these areas are education, nutrition, social protection, and improvement in local agriculture, all of which ultimately translate into desired human capital growth and sustainable development of human society. The PSF-initiated SFP has been making huge differences in the lives of benefitting school children. Observable benefits, so far, include hunger alleviation, increased cognitive development and academic performance, improvement in the nutritional status of learners, better school enrolment and attendance rates and reduced absenteeism.
In one of our conversations, James Isaiah, a student of Government Technical College, Esie/Iludun, described the Plungesmile Feeding Scheme as a desirable, vital incentive for his coming to school to learn. He said:

"I love the food that Plungesmile is giving us…and I will cry if they stop giving us food at school because the food is better here and keep me from being hungry and tired. I will not stay on for the afternoon lesson if I am hungry."
In the same vein, Oladipupo Sunday, another benefitting student, could not hide his excitement about the Feeding Scheme, which he also claimed to be an effective motivational index for him to go to school. He remarked: "The food makes coming to school more fun, especially the jollof rice. Maybe, we can be coming to school on Saturdays and Sundays as well."

"Thank you, Plungesmile" is all David Ayekomogbon of Government Technical College could say when he was asked about his perception of the scheme, as he was overwhelmed. Saka Yusuf also said, "I do very much enjoy the food. It makes me happy, eager to come to school and learn".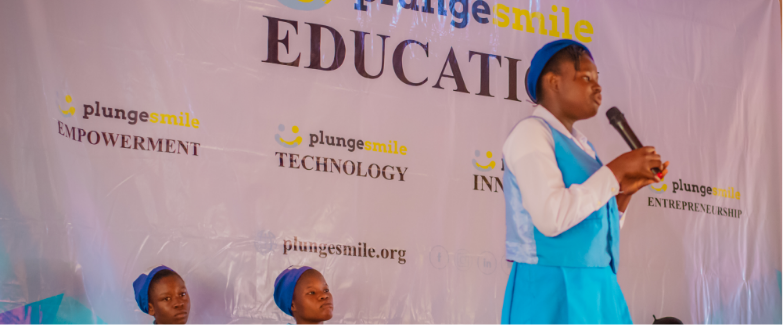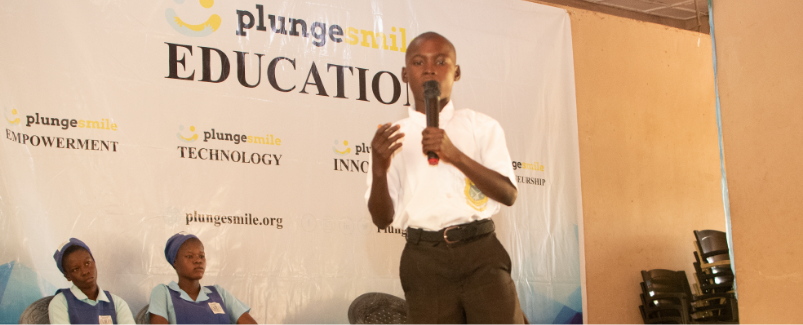 The programme's benefits extend beyond the schools' scope to the entire Esie community and its environs. Farmers are finding new produce markets, which ultimately boosts the local economy. Besides, the scheme creates employment opportunities for residents. Thus, by increasing their economic status, the Government will reap the benefits of human capital contribution. The PSF-initiated Feeding Scheme in the rural Esie community has created a win-win situation, as learners gain essential academic and professional insights and receive much-needed nutritional meals. With a full stomach, children's ability to concentrate and learn will be massively boosted, leading to improved learning performance. Thus, the scheme has helped meet the dire needs of learners, not only in the long run but in the short run, as well.
Donate to our
School Feeding Scheme
Join us in the mission to alleviate hunger and food insecurity among children in need.
Your donation can make a significant impact by ensuring that young minds receive the nourishment they need for a brighter future.
Kit up A Child is a scheme designed to provide complete school clothing attire for pupils in public schools. Provision of uniforms, socks, shoes, and bags, thereby providing a sense of belonging to the child.
Plungesmile Openarms was launched during the Pandemic lockdown to create succour for individuals and families with meagre income or no primary source of sustenance.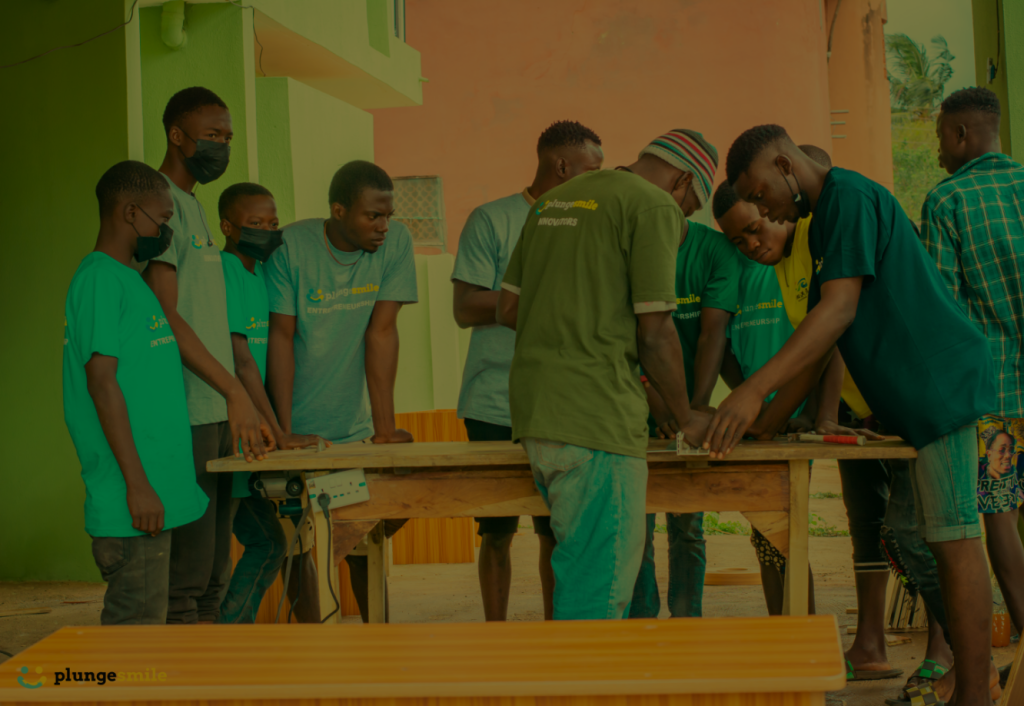 PSF audiovisual learning creates and serves as an enlightening platform for students in underserved rural areas helping them realize the importance of learning, and dedication to work.
Volunteer your time or your expertise